Tour Divide: Rig Rundown
After some solid post-DKXL recovery and an epic weekend in Tulsa for Red Bull Last Stand, its time to pack up the bikepacking rig and head out to Banff for the Grand Depart of the 2019 Tour Divide.
The Tour Divide is the mother of all bikepacking races. Spanning 2750 miles with around 180K feet of elevation, The Tour Divide will push challengers to the edge of what the mind, body, and spirit can withstand. With a few ultra-distance races and bikepacking trips under my belt I feel as prepared as I can going into something like this. Thankfully, there are vast amounts of information available to riders seeking to tackle this behemoth of a race and I've been lucky enough to know a few individuals who have accomplished great things out on this trail who have helped guide me in my own preparations the last several months.
After a lot of research as well as drawing from my own experience, I've assembled a minimalist kit that I feel confident will guide me from Banff down to Antelope Wells, NM. On Transcontinental, our mantra was "if you use it once, it was worth bringing." My first go at Transcontinental had me carrying way more gear than I ever wound up using and the following year I was able to slim down even further. While in Europe we were constantly passing through towns, giving us the luxury of steady resupply opportunities. However, civilization is a bit more scarce along the Tour Divide so being prepared to carry extra food and water is extremely important.
Starting with the bike, I'll be aboard my trusty Trek 1120 set up single speed. The 1120 is Trek's vision of what a bikepacking specific rig would look like. Based on their popular Stache plus-sized trail bike, the 1120 has a longer wheelbase and a lower bottom bracket for better stability when loaded down. The 1120 also comes with proprietary racks for carrying all kinds of gear (it is actually quite impressive how much the racks can carry) however since this is a race, I've decided to outfit the bike with custom fit bags from JPaks.
Cockpit
Truvativ NOIR Carbon Flat Bar w/Ergon grips

Zipp Vuka Clips with Zipp Vuka Carbon Extentions

Zipp Service Course SL 70 mm stem

Zipp Service Course SL seatpost

SDG x Squid saddle

F3 Cycling Form Mount for Wahoo ROAM

F3 Cycling Phone Mount
Drivetrain/Brakes
SRAM Eagle XO1 cranks 32T

Wolftooth SS Cog 16T

SRAM SS Chain

Crankbrothers Candy pedals

SRAM Guide ULT disc brakes

SRAM 180 mm rotors
Wheels/Tires
Front: Bontrager Kovee Elite 30 laced to SON dynamo hub

Rear: Bontrager Kovee Elite 30

Teravail Sparwood 2.2" durable casing

Quarq TireWiz
Bags
JPaks FramePak

JPaks SeatPak

JPaks Fatty SnakPak

JPaks RukSak x 2
Misc
Sinewave Beacon light/usb charger

B&M rear light wired to Beacon

King Cages on fork for water bottles

King Many Things Cage on downtube for 40 oz Kleen Kanteen

Tubes strapped to TT
So what exactly are all those bags going to be carrying? I've gone over this question countless times since I decided I wanted to race the Divide. I'm still going over this question as I write this. I'll continue to go over this question as I race my way down to Mexico, but for the moment at least I'm confident this kit is going to slay. I always knew Joe at JPaks made high quality gear, which is why I sought him out in the first place. That being said, until I had the bags in hand and loaded up I didn't know exactly how well made it all is. I'm not one to baby my gear and these bags are definitely built to handle all the miles and all the abuse I'll be throwing at them. Plus, camo. I can't get enough in my life.
First Aid Kit
MSR Trailshot water filter
Sewing kit
Spare brake pads, pedal cleats, and chain links
Tire sealant
Rapha Merino Arm Warmers
Rapha Merino Leg Warmers
Rapha Brevet Gilet
Defeet Samurai Messenger wool socks
MLD Rain Mitts
Handup x Cut Cats Courier gloves
Passport in Lezyne Caddy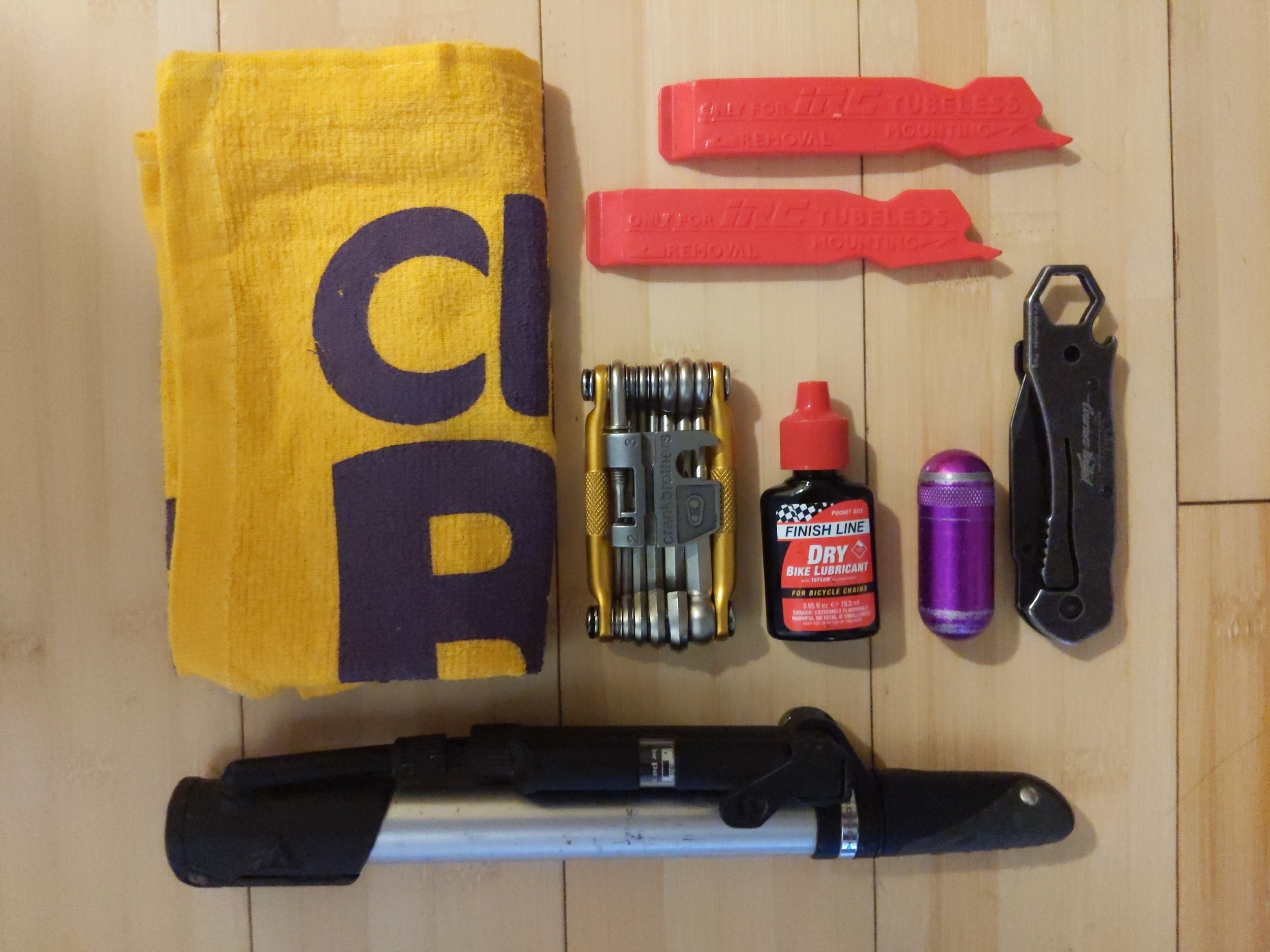 Crankbrothers Multi-tool
Tire levers
Dyna Plugs
Topeak Mini Mprph pump
Couriers United pocket knife
Chain lube
Rag
Bear Spray
CAP256 Carry Me Away waterproof musette for grocery hauls
CAP256 Strap Me Down Voile Straps
ALL THE FREAKIN SNAX I CAN JAM
Outdoor Tech 10K mah battery pack
Cables (micro USB, USB-C, USB to 9V for Sinewave Beacon)
Glasses
Wallet
Probably some jerky at some point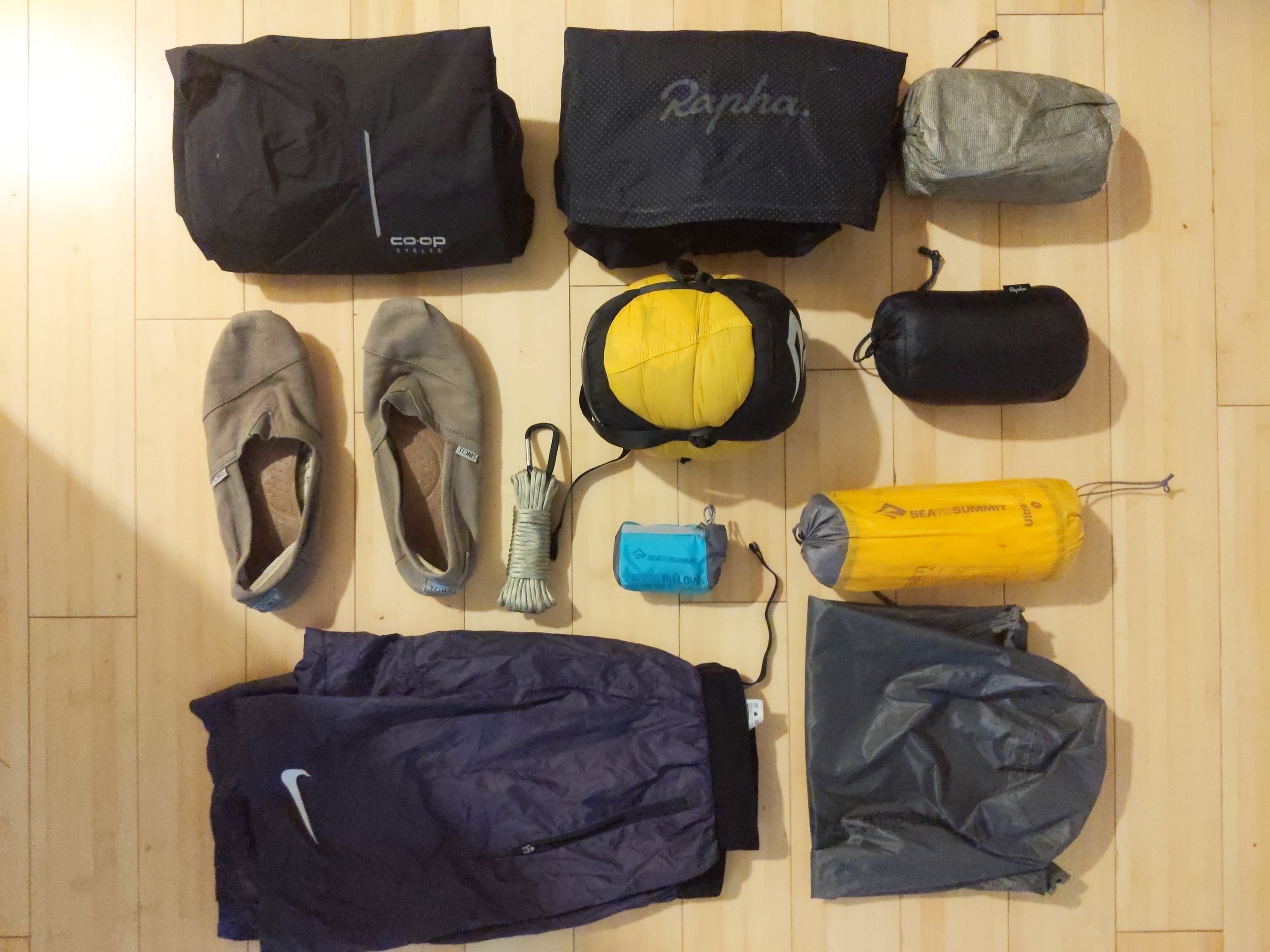 Sea to Summit Spark SP II Sleeping Bag
Sea to Summit Ultralight Air Sleeping Mat
Sea to Summit Aeros Ultralight Pillow
SOL Escape Bivy
Rapha Explore Down Jacket
Rapha Commuter Jacket
Co-op Cycles Rain Pants
Gear Aid Paracord for tying up food
Headband light for camp (not pictured)
I'm pretty hyped on this sleep kit. I discovered Sea to Summit gear when trying to source the lightest possible kit for the 2018 Transcontinental. I had this same pad and pillow, but with the Spark SP I rather than the SP II. The SP I was perfect for the summer in Europe, but given the weather conditions the Rockies have seen this year, I opted for the warmer (albeit slightly larger) SP II. The bag stuffs into its own stuff sack that compresses down to about 3.5L of volume. The air mat inflates quickly with about 10 full breaths and rolls down to 3" x 6.5" while the pillow's packed size is so negligible it would be silly NOT to bring it. Combined with the Rapha Explore Down Jacket and the SOL Escape Bivy, this kit should keep me warm in just about any weather I encounter. I'll do my best to not find myself camping out at the highest possible elevation, but you can't always predict when/where rest is absolutely necessary so I'm stoked to have a sleep kit that will cover a range of conditions.
As I break down my bike to box it up I go over each bit to make sure its exactly what I want to bring. Everything has it's place and everything has it's purpose. Inevitably at some point there will be something I wish I had or something I wish I didn't bring, but I'm learning such is the nature of long distance riding. Whether racing or touring there always seems to be a need for a little more or a little less at some point along the way. I'm sure I'll find something to crow about out on the trail.
Feel free to comment if you have any questions about the kit or also if you are stoked on anything in particular that you take with you on your adventures! I learned what I like by asking questions and trying different things. I'm always stoked to see/hear what is working for other people.
Stay stoked!